Choose your Kari Traa leggings
Leggings are a staple for every active woman needs, and chances are you already own a pair... or ten. But leggings come in all shapes and styles, in different fabrics and constructions. It's important to make sure you're wearing the correct pair for your activities. In this women's leggings shopping guide, we'll explore how to choose the right pair of leggings, so you can get out and get moving!
How Low Should You Go?
When choosing women's leggings, there are a variety of lengths and rises to consider. Depending on your height, certain lengths of leggings may feel better than others. The correct length should offer support, comfort, and flexibility where needed. Colder climates call for more coverage, while warmer days feel best with shorter lengths. Generally, your activity and the temperature will help determine which length is best for you. We recommend testing out a few different lengths to allow versatility amongst different seasons.
See the variety of leggings for spring / summer in ¾ length. Discover the offer.
Waist height
High waisted leggings: Tighter-fitting with unbeatable support, high waisted leggings bring confident coverage above the waist and offer a secure next-to-skin feel that should stay put no matter your activity. Leggings like the Julie High Waist allow you to move with ease through medium impact workouts - no adjusting, pinching, or pulling!
Midrise leggings: Sitting between the hips and belly-button, midrise leggings bring comfort and security without the added waistband.


Let's Talk Activity
It's important to consider the function, fit, and fabric of your leggings, as they are designed to enhance and cater to your activities. For example, are they leggings for hiking, leggings for workouts or thermal leggings to keep you warm?

For outdoor pursuits like hiking, consider hiking leggings with durable fabric that can stand up to weather and high-energy movement. The Sanne Hiking Leggings offer extra durable fabric that is super-supportive and super-flexible. With 40+ UPF and water-repellent material on the front thigh, seat and waist, you're covered whatever the weather!


For workouts like yoga and pilates, you'll want a breathable flexible pair that flow with you as you move. Whether you're doing downward dog or stretching into a lunge, your workout leggings need to keep up. A more relaxed fit is key when needing freedom of movement, and that's why we love the Louise Tights for their comfort and medium-impact support. With strategic mesh ventilation and an ergonomic design, these leggings offer a flattering fit that breathes.

For high-intensity workouts like running or indoor cycling, consider leggings that are tight-fitting and sweat-wicking. They should feel comfortable, yet snug – nothing baggy here! Tighter-knit pieces with sturdy fabric hold up well for these types of activities, while a mid-rise band will keep you comfy during heavy breathing. We love the Isabelle Tights because they are quick-drying with an elastic waistband, and provide silicone grips on the hems for a fit that stays in place.
It's in the Details
So you've decided how and where you'll be sporting your leggings, what's next? Now it's time to consider the extra features that bring it all together. Certain activities or workouts may warrant the needed for added features, but that's for you to decide!
Pockets:
Some women's leggings offer sleek side pockets on the legs or waistband to keep valuables safe and accessible while on the go. The Solveig Tights are our choice here for their flattering look and side-leg pockets that can hold keys or cards while on a run. Leggings might be our favorite workout clothes!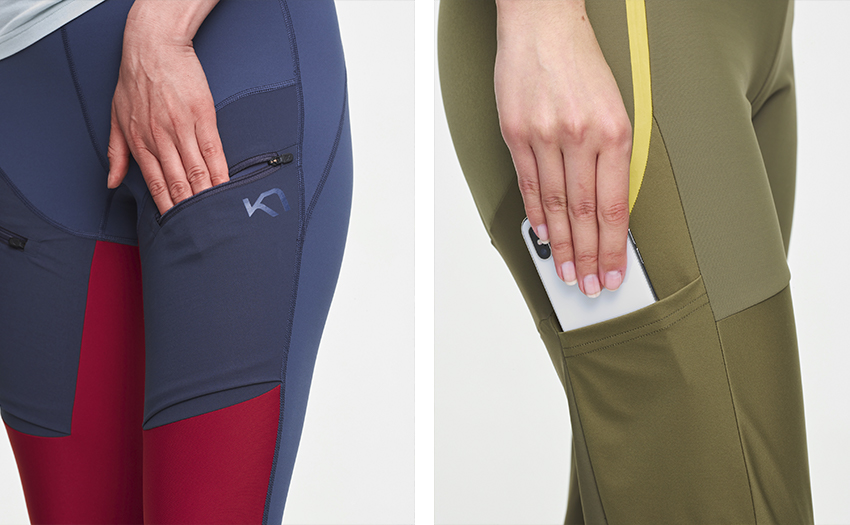 Drawstring:
A built-in drawstring waistband can be great for keeping leggings synched during high-intensity workouts, offering extra supports where you need it most.
Reflection:
Extra details like glow in the dark or reflective seams are great for early morning or evening activities when visibility is needed from bystanders. The Eva Tights offer bold reflectors along the legs so you can sparkle in more way than one!
Silicone hem:
A small, inconspicuous detail that no one will notice ... just you! The silicone hem at the bottom of the trousers ensures that it stays in place at all times and during any movement. You can find it in the models Julie, Louise, Vilde, Ane, Sanne.
Thanks to the leggings, you should feel extremely confident and comfortable. At Kari Traa, we like to combine functionality with fashion, so in the offer you will find quality functional materials in beautiful women's designs, which you can combine with tops, sweatshirts or training jackets. Combine your sports outfit according to your imagination, taste and use. Choose your favorite leggings, go out, move and enjoy the spring and summer days to the fullest!